My father had a big, heavy wooden toolbox that he used to build some of Nantucket's finest houses of the day. Forty years ago, when he had abandoned his hand tools for more efficient power tools, I asked him if I could have it, because it was being beaten up under piles of stuff in his shop. Every time I see the four-foot long, two-foot high splintering case, it brings back wonderful memories of my childhood.
We would meet every morning by 7:30 at his workshop, where we'd load the toolbox on to his truck along with the lumber and supplies we needed for the job. It contained the staples of the trade necessary to build a house from the rough frame to the fine finish.
Carpenters who worked with him used to take wood home at night and practice cutting it in their living rooms to learn to make cuts with precision. Some guys sharpened their own blades. No one does that anymore, they just throw the blades out when they get dull.
In my mind's eye I see him, framing a house on a bright blue summer day on Nantucket. He's wearing a t-shirt with cigarettes rolled up in the sleeve, and he's got a pencil behind his ear.
I've kept the collection of tools and detritus intact inside the box. There was his hammer with a wooden handle and a cloth nail apron.
He had a shingle hatchet that could be flipped in one hand to either use the blade to cut the shingle or the head to nail it into place. No self-respecting carpenter used a hammer to shingle the side of a house.
This was before the power drill, so he had a bit brace and a roll of bits. He had a bevel square, and a pair of dividers to scribe with. His Yankee screwdriver had claimed more skin from my fingers than I wanted to remember. He had a pair of snips, a pair of pliers, a pipe wrench, and a jack plane or two.
He kept a bevy of handsaws. He had a 6 point rip saw, an 8 point cross-cut saw, a coping saw, and a 14 point finish saw. He had a block plane, a level, a combination square, a cat's paw, a set of bars, a chalk line, and a sheetrock knife.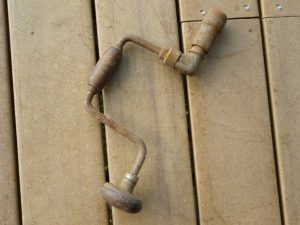 The old box is heavy. My wife can't lift it and she wants to take pictures for the website. I drag out the battered chest and open the lid. The smell reminds me of wood in a dry, old—very old—attic.
The chain that once caught the lid from falling open is broken. A couple of rusty screws stuck through some clumsy repair and almost all of the grey paint was rubbed off.
The top tray held squares, chisels, a hand plane, screw drivers, a glass jar with a couple of shims in it, a crumpled brown paper bag, wood shavings, a coil of wire like a compressed Slinky, a few brads, sheetrock knife and packs of blades, and a honing stone in a collapsed cardboard box.
I lift out the top tray with my fingertips and set it aside.
"We can't take a picture of that," Betsy says.
"Why not?"
She points a finger at the handsaws. "They're all rusty. Everything's in terrible shape."
"Honey," I say, holding my hands out to her in fake surrender, "this is the way they are. This is how they've always been."
"Rusty?"
"You're at a job, it starts to rain, you pack up, the next day everything is rusty."
I lay out the tools and she grumbles about the general condition of the box and then squats to take photos.
"See the red paint?" I ask her. "Red was my dad's mark. That's how everyone knew it was his box."
"I thought you probably dripped paint on it," she says.
"He took these hinges off an old ice chest. Repurposed them. Look how heavy they are."
She looks at the hinges and says, "Hmm."
I repack the box and shove it back under the table. I can tell by the way Betsy looks at it that I will be making some repairs soon.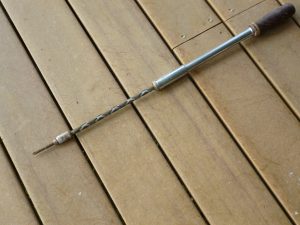 As I look at the chest today, I still have vivid memories of working alongside him when I was a boy; him, and my older brothers, and some of Nantucket's best master carpenters. His toolbox is a reminder to me of the value of true craftsmanship, of handling each piece of wood, of making cuts that are straight and true, and of working fast and with precision. I can still hear my dad's voice saying, "Let the tools do the work."